Awnings
If you are looking for a supplier of awnings in Woodbridge or the surrounding areas, then look no further than Nu-Life Furnishings Ltd. Our awnings are the perfect way to help you enjoy more time outdoors on your patio, when the weather is less than ideal. We can show you clever ways to create shade when it's hot, add some extra heat on cooler evenings and provide lighting so you can enjoy the outdoors when it's dark.
We supply and install awnings in Woodbridge, Ipswich, Aldeburgh, Felixstowe and all surrounding towns and villages.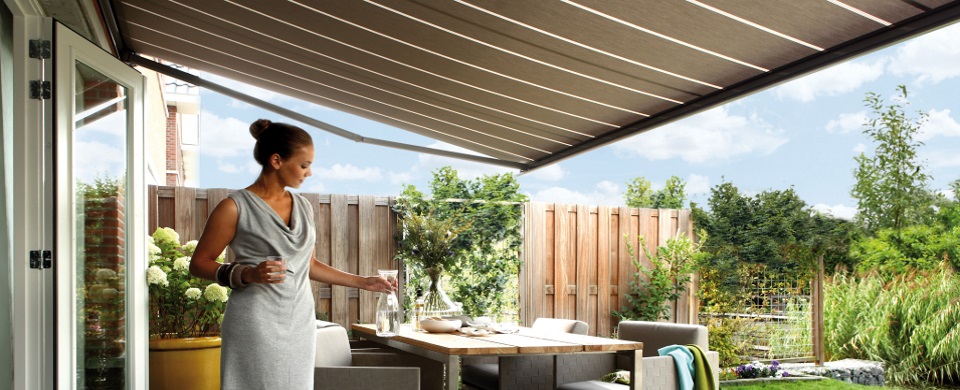 Luxaflex Awnings
Luxaflex are our preferred supplier of awnings as they offer a huge range of quality products – all with a 5 year guarantee. Nu-Life Furnishings are a Luxaflex Inspiration Dealer which enables us to bring you all the latest Luxaflex awning products and technologies, before other retailers.
So whether you are looking for an awning, canopy, parasol or terrace awning, as the leading supplier of awnings in Woodbridge and East Suffolk, you know you will be in safe hands at Nu-Life.
Luxaflex offers a variety of systems providing shade and elegance to all sizes of patio. The collection features an extensive choice of fabrics, all designed to block glare, reduce heat and provide protection from UV rays.
The Dickson Orchestra range is a refined collection inspired by tradition. There are 194 fabrics made up of 78 solid colours and 116 stripes to choose from. Manufactured from 100% solution dyed acrylic which means that that the colour is locked in to the yarn, guaranteeing against rotting and fading.
Ranges also include the Orchestra Max collection, which is an innovative, self cleaning, heavy duty fabric and Alto FR which is a flame retardant version of fabric.
Rhythm and Harmony are decorative collections featuring 53 inspiring fabrics. Classic stripes with bold patterns, Rhythm & Harmony draws inspiration from the latest trends in interior design.
Base Plus
Our best selling awning, a lovely streamlined, fully cassetted awning with a distinctive grooved front rail. The Base Plus is a fully cassetted folding arm awning, with stainless steel chain arms and end fix brackets. Maximum dimensions are 5.5m wide by 3.1m arm length. The arms and cover are fully enclosed in a cassette box for maximum weather protection when the awning is retracted.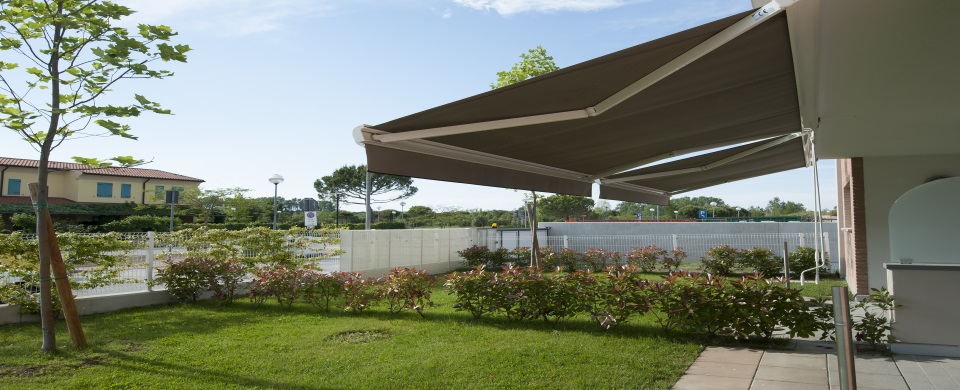 Base Lite
This is the little sister of the Base Plus, with the same end fixing, fully cassetted system. With maximum dimensions of 4m wide and 2.6m arm length, Base Lite is perfect for shading a more compact outdoor area while still extending your home.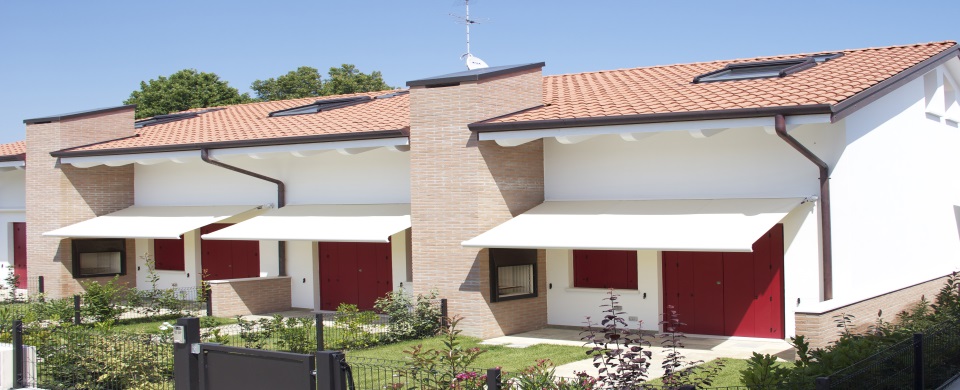 Armony Plus
With a beautifully contoured, fully cassetted system, the Armony Plus is our top of the range model. The system features durable chain linked arms which make it suitable for larger residential and commercial applications up to 12m wide and 3.6m arm length.
Despite its functionality, the Armony remains extremely elegant in appearance. All the aluminium profiles are powder coated in white (RAL 9010) as standard. To suit your individual taste, other colours can be powder coated as a option. LED lights can be installed in the arms of the awning, as an option, to extend your outdoor entertaining into the evening.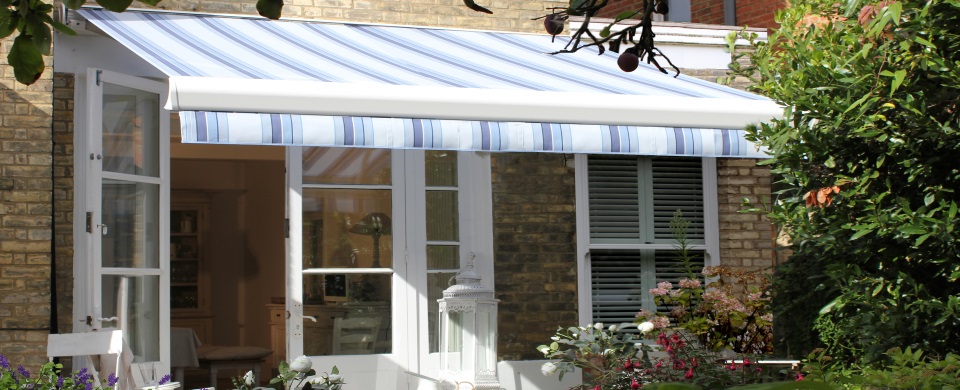 Silver
Silver is the perfect entry level awning, for residential installations, as it is a high quality system at a very affordable price. With maximum dimensions of 5m wide and 2.35m arm length, the lightweight system is ideal for smaller gardens. The Silver awning utilises either the BQ squarebar or the PS combi mounting systems and all the aluminium profiles are powder coated in white (RAL 9010).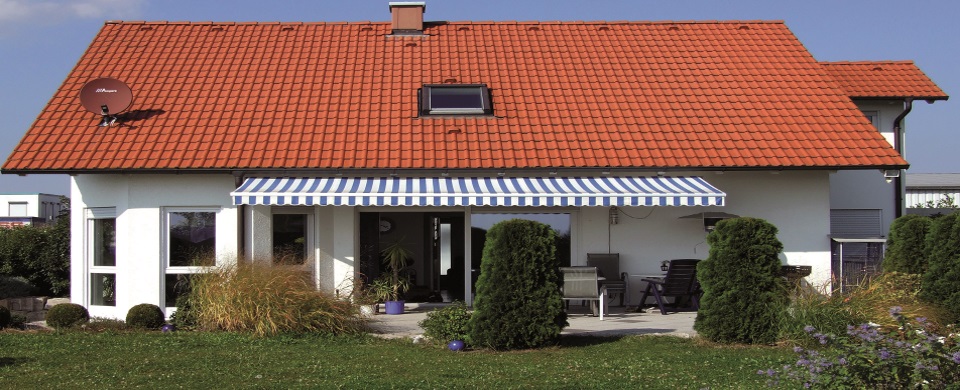 Domina
The Domina, folding arm awning with cassette, is the perfect combination of classical style and innovative design.The appealing model features a host of new technology, proving it to be one of the top products in the cassetted model range and one of the more popular awnings with our customers. Domina is extremely easy to assemble, adjust and install, ensuring the highest safety and quality standards.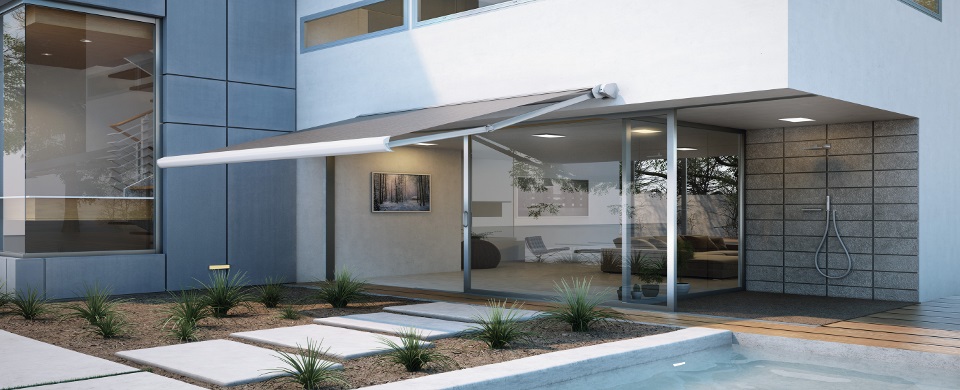 Other Awnings
There are many other awnings in the Luxaflex range. Other models available include Zenith, Palladio, Milano, Arrezzo, Orvieto, Italia and Gennius. Please contact us, or call in to our showroom for more details.
Luxaflex Canopies
Luxaflex canopies can enhance the exterior look of your home or business premises as well as providing shade for your room. Canopies can be manufactured in a variety of shapes to compliment the architecture of your property. Choose from an array of fabrics and create a visual statement by having your details screen-printed or sign written across the fabric.
Luxaflex canopies are manufactured from high quality anodised aluminium with cast components. Depending on the canopy shape, the frames can be manufactured as a fixed shape or retractable. Folding canopies are manually operated using cords and pullies.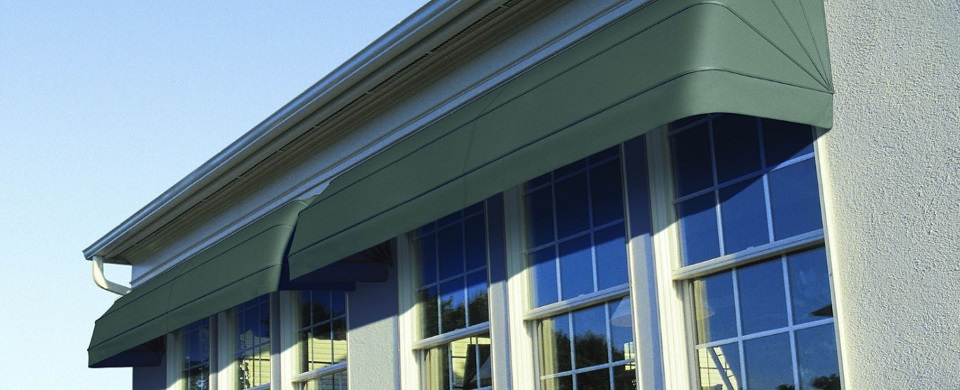 Motorised Awnings
Add motorisation to your awning for extra convenience and sophistication. Powered by a Somfy motor, the awning is operated conveniently by a touch of a button. The awning fabric is always perfectly taut and the valance can also be powered. As a security feature, there is a selection of independent environmental sensors which can control your awning even when you are not at home. An independent sun sensor automatically activates the awning when the programmed sunlight threshold is reached and a wind sensor monitors conditions around your awning at all times, automatically retracting the awning in strong winds. You can even add remote controlled lighting and/or heating to continue entertaining well into the night.
Supplier of Awnings in Woodbridge, Ipswich, Aldeburgh and East Suffolk
We are a family run business, in our 6th generation, and supply and fit awnings in Woodbridge, Ipswich, Felixstowe, Aldeburgh and nearby towns and villages. We pride ourselves on our quality products and professional, friendly service.
Let us help you choose the right awning for your home. We are on hand to offer expert advice and can guide you through all the options available. We provide a complete service, from measuring to installation and all our awnings come with a 5 year guarantee, for your peace of mind.
For more information on our range of awnings, or to view some samples, please call us on 01728 747745 or visit our showroom at Unit 17 Riverside View, Wickham Market, Suffolk, IP13 0TA
writing papers for college
order essay online
write me an essay
research paper writing service
essay writing websites
research paper
buy essays
buy research paper