Pirouette Shades
Pirouette shades consist of a semi-opaque or room darkening front fabric and a sheer rear fabric. When the shade is fully lowered, the front fabric can be opened to form vanes and allow view through the sheer fabric. The soft, elegant fashion and function of Pirouette® shades makes this window covering truly unique.
We supply and fit pirouette shades in Woodbridge, Ipswich, Aldeburgh, Felixstowe and all surrounding towns and villages.

Luxaflex Pirouette Shades
Luxaflex Pirouette Shades are available in 6 fabric collections: Satin, Satin Metallic, India Silk, Linen, Stria, Shantung and Bamboo. The collections offer a variety of natural, earthen shades and warm tones to suit all tastes. The shades are supplied with matching fabric-covered head rails and bottom rails, as standard, to fully complement your style and decor.
The fabrics are available as semi-opaque or room darkening, depending on your requirements. Both fabric types are effective at filtering out brightness, glare and up to 75% of UV rays – protecting your flooring and furniture from fading.
Unlike some blind types where strings are used to raise and lower the blind vanes, Pirouette Shades use a patented Invisi-Lift system which eliminates the need for strings, allowing an unobstructed view to the outside.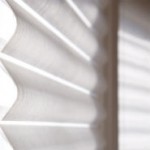 Close the vanes for privacy or to reduce the amount of natural light, giving a smooth, more contemporary finish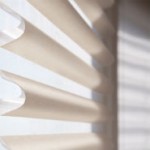 Slightly raise the vanes for a gentle contoured look, whilst maintaining privacy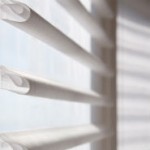 Fully open the vanes to provide a clear view to the outside
Two vane sizes are available: Petite 100mm or Grande 125mm. The shades can be supplied at sizes up to 3m wide and 3.5m in height. For rooms where multiple blinds are supplied, the vanes will all align to give an elegant, uniform feel.
Providing convenient control and enhanced child safety, the operating systems available with Luxaflex Pirouette Shadings are unique and innovative. Choose from:
Ultraglide® – The Ultraglide® system features a retractable pull cord which remains the same length whether the shade is raised or lowered. The single cord system means enhanced child safety.
Powerview® – The Powerview® system provides touch-of-a-button operation for precise light control, privacy and enhanced child safety. Choose from a hand held remote control, or wireless wall switch.
Pirouette Shades in Woodbridge, Ipswich, Aldeburgh and Felixstowe
We supply and fit Pirouette shades in Woodbridge, Ipswich, Aldeburgh, Felixstowe and all surrounding towns and villages. Nu-Life Furnishings Ltd is a family run business and we have been supplying and fitting curtains and blinds in the area for nearly 40 years.
As a Luxaflex Inspiration dealer we can bring you the very latest products and technologies from Luxaflex, before other retailers. We have working samples of Pirouette Shades on display in our showroom in Wickham Market, Suffolk and can offer expert advice to guide you through all the options available.
Whether you choose your blinds in our showroom, or we come to you with some samples, you can be assured that we will provide a complete service for you – from measuring to installation. We also offer a 5 year guarantee on all our Luxaflex Pirouette Shades for your peace of mind.
For more information on our range of Pirouette Shades, or to view some samples, please call us on 01728 747745 or visit our showroom at Unit 17 Riverside View, Wickham Market, Suffolk, IP13 0TA
writing papers for college
order essay online
write me an essay
research paper writing service
essay writing websites
research paper
buy essays
buy research paper