Silhouette Shades
Luxaflex Silhouette shades combine the softness of silk with the practicality of Venetian blinds. The shades consist of soft rotating fabric vanes which are suspended between two sheer fabric layers. Using a similar operation to Venetian blinds, Silhouette shades allow you to control the amount of natural light, or level of privacy, by adjusting the fabric vanes. By using fabric, Silhouette shades are a softer, more elegant alternative to Venetian blinds, giving a relaxed feel to any room.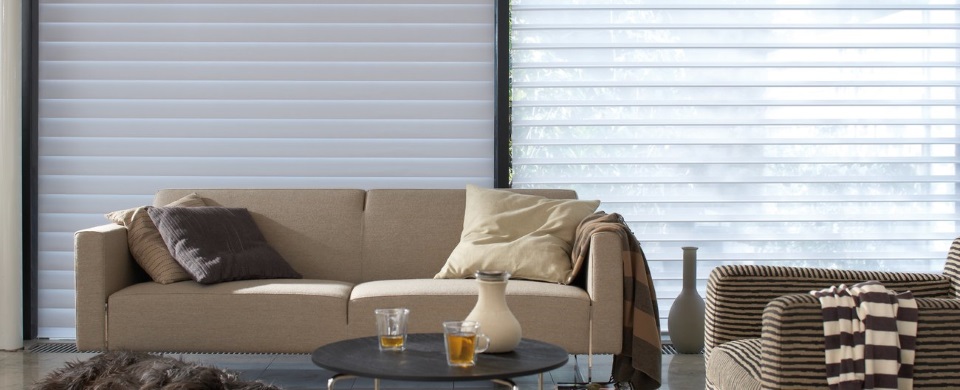 Luxaflex Silhouette Shades
Luxaflex Silhouette shades are available in a large range of fabrics. Colours range from white and natural shades, to deep earthy tones – suitable for any decor. With three vane widths available (50, 75 and 100mm) Silhouette shades are perfect for every size of window and in every interior.
Colour Coordination
The head box and bottom rail are available in three colours (white, cream and silver) to colour coordinate with the fabric, including the lift cords and weights. Though you can mix and match as you choose.
UV Protection
A variety of structures are also available, including a screen-like fabric with 25% better heat prevention, silk-look fabrics and dim-out fabrics. The harsh effect of UV light, which causes discolouration of furniture and wooden flooring, is greatly reduced by Silhouette shades. With the vanes open, UV protection is up to 88% and up to 99% when the vanes are closed.
Easy Operation
Silhouette shades can be operated comfortably in 3 ways:
Cord loop – to raise, lower and tilt the blinds
UltraLift™ – uses a single cord pull which is child safe
LiteRise® – lower and raise your blind with one touch, eliminates pull cords altogether
PowerView™ – operated via remote control, wall switch, smart phone or tablet
Silhouette Shades in Woodbridge, Ipswich, Aldeburgh, Felixstowe and surrounding areas
We supply and fit Silhouette shades in Woodbridge, Ipswich, Aldeburgh, Felixstowe and all surrounding towns and villages. Nu-Life Furnishings Ltd is a family run business and we have been supplying and fitting curtains and blinds in the area for nearly 40 years.
As a Luxaflex Inspiration dealer we can bring you the very latest products and technologies from Luxaflex, before other retailers. We have working samples of Silhouette Shades on display in our showroom in Wickham Market, Suffolk and can offer expert advice to guide you through all the options available. Come and see us at Unit 17, Riverside View, Wickham Market, IP13 0TA – we have loads of free parking.
Whether you choose your blinds in our showroom, or we come to you with some samples, you can be assured that we will provide a complete service for you – from measuring to installation. We also offer a 5 year guarantee on all our Luxaflex Silhouette Shades for your peace of mind.
For more information on our range of Silhouette Shades, or to view some samples, please call us on 01728 747745 or visit our showroom at Unit 17 Riverside View, Wickham Market, Suffolk, IP13 0TA
writing papers for college
order essay online
write me an essay
research paper writing service
essay writing websites
research paper
buy essays
buy research paper